Software Development Services at
Momin Solutions
From strategizing to developing and implementing, we provide top-notch software development solutions to global clients – so that they can generate real business value and enhance their ROI.
Ideal Solutions With Full-Cycle

Software Development Services
Software Development

Platforms &

 

Tools for Quick Development
Software Development

 

Outsourcing Process
It all starts with a great idea – your idea! After you have carefully devised your idea, now it's our turn to make it real with meticulous planning.
We understand your project from A to Z to provide an actionable solution. Our feasibility study covers all the technical and economical aspects to get the job done.
Our project proposal highlights all the possible solutions, tech stack, time, and costs needed to achieve a 100% project success rate.
At this stage, our designers and software architects work in complete harmony to build the whole structure of the product
Pre, during, and post-development, our QA testers conduct a series of tests to ensure the quality, functionality, and system integration.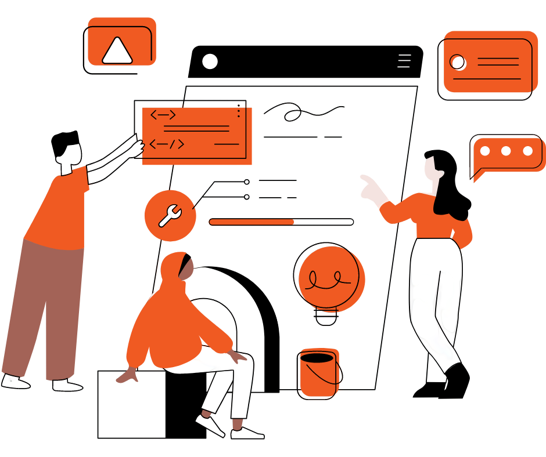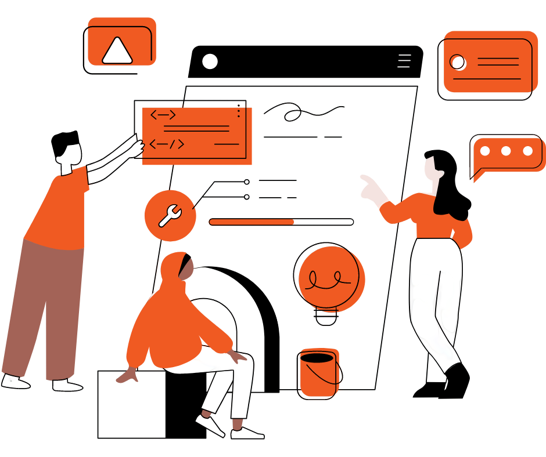 What

 

Sets Us Apart
 

From Other

 

Software Development Companies








100% project success rate




360 Degree & Client Centric Approaches




Cost & time efficient solutions
Choose How How Want to
Collaborate 
Hire Developer on Hourly Basis
Dedicated Team of Developers
Frequently
Asked

Questions
What is the process of software development?
Software development process is known as the Software development life cycle (SDLC) and the SDLC has 7 stages which remain the same throughout the development process. 
Analysis and planning 

Requirements gathering 

Design & prototyping

Software development

Testing

Deployment 

Updates & maintenance
Why do companies outsource software development?
Following are some of the factors that drive companies to outsource software development 
It boosts your app development speed 

It helps to expand technology stacks without re-hiring talents 

It's more cost-effective as compared to in-house teams

Saves time on hiring experts/specialists

Access to talent around the globe

Lets you focus on your core business operations
What is the role of a software developer?
Developers are responsible for developing, testing, debugging, updating and maintaining web and mobile applications. They are hired by software development/companies to develop both custom and off the shelf software solutions.
How to choose a software development company?
Keep the following things in mind to choose the right software development company:
Look for companies providing comprehensive services

Look at past work portfolios

Search for recommendations and referrals

Ensure that the company has the expertise you need 

Check company's awareness with risk management

Ensure you are acquainted with the pricing

Consider security and safety issues
What are the skills required for a software developer?
Some of the skills important for software developers are: 
Familiarity with data structures and algorithms 

Understanding of programming languages both functional & object-oriented 

Databases and operating systems

Basics of networking and testing 

understanding of Git and Github

Problem-solving and communication skills
Let Us Know What You're Looking for
Customer satisfaction rate