Enterprise App Development at
Momin Solutions
Tap into cutting-edge enterprise software development to increase operational efficiency. Momin Solutions is a leading provider of enterprise app development services. We help businesses create custom applications that meet their specific needs. We use the latest technologies to develop high-quality, secure, and scalable applications. We work with you every step of the way to ensure your project succeeds.
Develop custom enterprise software to meet your industry-specific needs.
Seamlessly integrate data with corporate systems and external applications.
Cut through complexity with innovative enterprise software development service
How Can We Help Enterprise Application

Development ?

Enterprise Application Integration
Launching your latest mobile strategy becomes so much easier when you have a comprehensive enterprise application that fits all your needs.

Enterprise Mobile App Development
Accelerate enterprise activities, streamline business processes, and improve ROI by partnering with us to develop your enterprise mobile application.

Enterprise Web App Development
Leverage our technical expertise and industry-specific knowledge to scale and automate your business processes. Being a leading enterprise software development company,

Enterprise Application Development Services
We design, scale, and develop your enterprise software solution according to your industry-specific standards. Momin Solutions aims to support your business infrastructure with scalable solutions.

Enterprise Mobility Services
Trying to meet the complex IT requirements of a highly mobilized workforce can sometimes seem impossible. Momin Solutions offers outstanding enterprise development services catering to every aspect of the mobility service lifecycle.

Enterprise Data Management
Stay competitive with efficient data management strategies, predictive analytics, intelligent automation using Momin solutions, and in-depth enterprise data management technology knowledge.
Our
Enterprise App Development

Platforms, Tools, and Technologies
Choose how you want to
Collaborate 
Hire Developer on Hourly Basis
Dedicated Team of Developers
Frequently
Asked

Questions
What is enterprise app development?
Enterprise software development is developing and deploying scalable software applications for companies to support their operational and strategic business initiatives. Some examples of enterprise apps include CRM, Business Analytics, and Business Intelligence systems.
Is it safe to outsource enterprise software development?
Usually, enterprise software development requires internal business data and procedures, and disclosing them to anyone is a risky task but it's totally fine to outsource enterprise software development if you don't have an in-house software development team. But you should sign a non-disclosure agreement (NDA) with the vendor you are going to outsource.
How much does it cost to develop an enterprise application?
Enterprise application development is a bit different from any other software or app development. It usually takes more time than the traditional software because it's built for your organization specifically to cater to your specific needs. So, it's difficult to give an exact price. It's better to get an estimate from an outsourcing company before you outsource.
What are some examples of enterprise applications?
Here are the top 7 enterprise app examples: Enterprise Resource Planning (ERP) solutions, Customer Relationship Management (CRM) systems, Supply Chain Management solutions, Marketing Automation, Human Resource Management (HRM) solutions, Business Intelligence (BI), and Business Process Automation solutions.
Our Popular Use-Cases of
Enterprise App
Development

Across Global Industries
Reduce crashing profits, affectees, errors in land planning, high costs, low conversion rates, and poor selling process with scalable real estate Enterprise App developed with the advanced tech stack of Momin Solutions.
With the
help
of our
Enterprise
App,
similar
as geolocation,
integrated
payment
gateways
,
push
announcements
,
deep
analytics and
other
ultramodern
technologies, you can
now
offer
your
clients
an interactive and
individualized
experience
.
Foster online processes, automate learning processes, manage learners' needs and track progress with custom app development solutions that aim at high efficiency, reduced paper waste and fewer human errors.
Bad days are those when connecting with your patients becomes a hassle! But at least now you have Momin Solutions developers who increase patient engagement while reducing the risk of errors in medical services through robust and AI-based Website Applications.
Build Web-based applications for your travel business to share luggage tracking data through a decentralized database – improve the customer experience and reduce the likelihood of luggage getting misplaced. Make bank payments simple and secure by allowing customers to pay through online payments. Leverage global web application technology to validate customer identities, and provide customers instant access to their rewards points.
Streamline your production lines, supply chain and customer service operations across different devices such as mobiles, laptops, servers, and tablets with Momin Solution's Website development services.
Overcome financial crises such as stock market crashes, credit crunches, poor loan management, inaccurate predictions, and missed investments with Website Development and Website Application crafted under Momin Solution's roof!
We live in an uncertain time as the world is in a state of unrest. But do not worry because Momin Solutions develops Website and web based apps for those who want quick and easier ways to apply for insurance and submit requests for claim processing.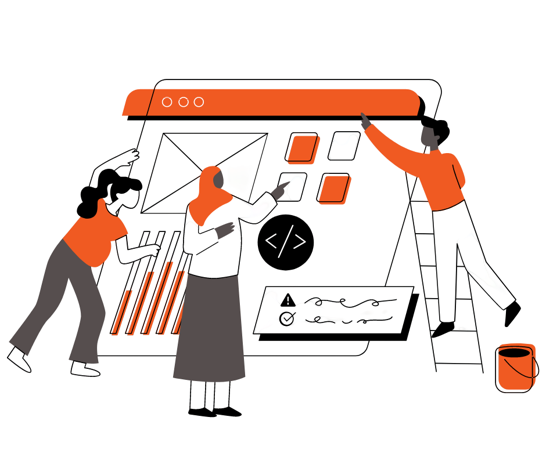 Let Us Know What You're Looking for
Customer satisfaction rate