Web Development at
Momin Solutions
Web development services provided by Momin Solutions help create all types of web-based software while ensuring a top-notch experience for its web-users.
Get our experienced, elite, and result-oriented engineers plugged into your web design company to get amazing outputs without the hassle of hiring. We are a team of digital acceleration experts who build web designs, refactor, migrate, architect and provide ongoing business support and maintenance as a part of our custom web development services. Our web development company specializes in building CMS development, SPA and custom websites, and anything in between. Our solid end-to-end delivery of tailor-made technology solutions brings improved scalable and competitive results while with standing the test of time.
Latest web technologies like Elixir, ReactJS, Laravel, Node.js and many more
Wallet-friendly engagement models to hire developers
Daily collaborative meetings with product managers
Free full-cycle quality assurance
How Can We
Help web application

development?

Frontend Framework
Our front end web developer helps you build an interactive, innovative, and eye-catching front-end that effortlessly engages your customers with the website or application.

Robust Back-Ends
We build a reliable, secure, scalable backend development that ensures a vibrant data flow and immaculate operation of all customer-facing elements.

Complete Cycle Development
Our professionals are available for every step of the web development software process, from ideation to a market-ready web solution.

Business Analysis
To engineer and design the scope of your solution, our expert analysts analyze the requirements of your target audience. Moreover, we aim to bridge the gap between IT teams and stakeholders while keeping all parties aligned.

Integrations
Our devs have the efficiency and expertise to integrate your web app development services with almost anything, be it integration with corporate, third-party systems/services, or Al image processing algorithms. We ensure instant data synchronization across systems.

Continuous Support And Evolution
Our reliable deployments and well-established DevOps processes help us keep your web-based software competitive, well-run, and compliant with your evolving business needs.
Our

Web Development

Front-End Platforms, Tools, and Technologies
Our

Web Development

Backend Platforms, Tools, and Technologies
Choose how you want to 
Collaborate 
Hire Developer on Hourly Basis
Dedicated Team of Developers
Frequently
Asked

Questions
How long does it take to develop a responsive website?
The duration to build a responsive website is completely dependent on your requirements. However, being in the game of web development we ensure that we meet the deadline of our clients and stay within the allocated budget; however, it definitely takes longer to build a megasite of 1000 pages in comparison to a smaller eight page brochure website.
Which size of companies do you provide web development services to?
We are not confined to any specific sort of company size thus we provide web development services to all sorts and sizes of businesses and even individuals. We make sure that we deliver the same quality and work with the same passion and vigor for our smaller clients/ growing organizations, the way we do it for our celebrities and big businesses.
Do you redesign existing websites?
Well yes, we sure can do that! We can even help you redesign some aspects of your website so that you are able to rebrand your site, increase your traffic, generate more leads, add advanced functionalities to improve the user experience etc.
How much does a website cost?
Oh, the age-old question! This entirely depends on what your requirements are but be assured that we deliver nothing but the best and that too while being super easy on your pockets. How about you get in touch with our experts and get a free quote right away!
Our Popular Use-Cases of
Web -Development

Across Global Industries
Reduce crashing profits, affectees, errors in land planning, high costs, low conversion rates, and poor selling process with scalable real estate Website Development developed with the advanced tech stack of Momin Solutions.
With the help of our Website Development, such as geolocation, integrated payment gateways, push notifications, deep analytics and other modern technologies, you can now offer your customers an interactive and personalized experience.
Foster online processes, automate learning processes, manage learners' needs and track progress with custom app development solutions that aim at high efficiency, reduced paper waste and fewer human errors.
Bad days are those when connecting with your patients becomes a hassle! But at least now you have Momin Solutions developers who increase patient engagement while reducing the risk of errors in medical services through robust and AI-based Website Applications.
Build Web-based applications for your travel business to share luggage tracking data through a decentralized database – improve the customer experience and reduce the likelihood of luggage getting misplaced. Make bank payments simple and secure by allowing customers to pay through online payments. Leverage global web application technology to validate customer identities, and provide customers instant access to their rewards points.
Streamline your production lines, supply chain and customer service operations across different devices such as mobiles, laptops, servers, and tablets with Momin Solution's Website development services.
Overcome financial crises such as stock market crashes, credit crunches, poor loan management, inaccurate predictions, and missed investments with Website Development and Website Application crafted under Momin Solution's roof!
We live in an uncertain time as the world is in a state of unrest. But do not worry because Momin Solutions develops Website and web based apps for those who want quick and easier ways to apply for insurance and submit requests for claim processing.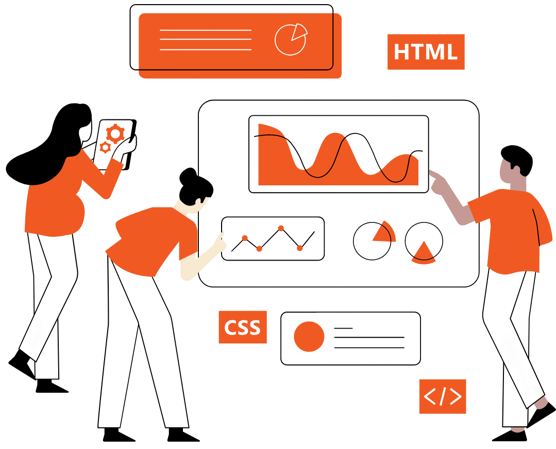 Let Us Know What You're Looking for
Customer satisfaction rate