Mobile App Development at
Momin Solutions
We provide mobile app development services by our team of easily accessible, App development company with creative and innovative mobile app developers at the top of their game regarding iOS, Android, and hybrid. With our customizable mobile app development software services, we can help you design, develop and launch the application of your dreams while ensuring an uninterrupted and seamless user experience. Our mobile app developers deal in both native and cross-platform app development while always putting in their best to go beyond your expectations.
Been there, done that– we have worked on multiple complex projects and have successfully published tons of applications in various marketplaces including AppStore and GooglePlay. Our expertise also lies in the distribution and version compatibility of different apps.
How Can We Help

mobile application

development ?

Native vs Cross-Platform
An app supporting multiple platforms is always preferred. Native android apps must be high performing but can be costly as they have to be built from scratch for every platform, this is where the cost-saving cross platform development comes into the picture!

Proactive Approach
Your goal is our goal! We are experts in taking a proactive approach towards achieving your aims and goals while ensuring that we surpass and deliver you more than your expectations.

Incorporating Latest Technologies
Our modernized mobile app development services makes it easier to incorporate the latest technologies in our apps which not just provide maximum user satisfaction but also allow businesses to optimize their sales and demand.

Privacy & Security
We cannot stress enough the importance of the security of an app—the more secure an app is, the more likely it is to have loyal users and gather an audience at a quicker pace. Thus, we fully comply with all management permissions and authentication flow guidelines.

Push Notifications
Push notifications are an integral part of an app's success as they are prompt in the required actions. We are experts at using AWS push notification services, google cloud messaging, firebase cloud messaging integrations, and google push notification services.

User-Friendly Mobile UI/UX
Our goal for our ionic apps is to make them as user-friendly as possible; thus, we focus on interfaces that are clearly designed, efficient to use, and aesthetically pleasing.
Our Areas Of Proficiency In
Mobile App Development
NATIVE ANDROID APP
Our Areas Of Proficiency In
Mobile App Development
CROSS PLATFORM APPLICATION

Flutter
Flutter cross-platform Specialized professionals are great at experimenting with technologies and are amazing at building fast, creative UX from a single codebase.

PWA
Our expert developers who will build incredible Web websites for you to perform like mobile apps.
React Native
Our expert high-end JavaScript engineers code once and set it up to support iOS, Android, Windows, and Mac Apps.
Choose how you want to
Collaborate 
Hire Developer on Hourly Basis
Dedicated Team of Developers
Frequently
Asked

Questions
Can you help market my app?
Of course, we can!  Our marketing team works in collaboration with different PR agencies, external consultants, design firms, etc. which can help you make your name in the market. Moreover, our digital marketing service also includes ASO, PPC campaigns, SEO services, Email newsletters, and much more.
How to choose a mobile app development platform?
In order to choose the mobile app development platform, you may consider the following aspects; your target audience and their interests/expectations, the features that you want to offer your users, your costing and development plan for the app, the importance of security of the app, best fit platform for your app and integration of the platform with other platforms. 
For a better understanding, talk to our mobile app experts today!
Is cross-platform and hybrid mobile app development the same thing?
Although cross-platform app development and hybrid mobile app development are considered to be the same, when compared themselves, however, there is a lot to elaborate on. The only similarity between the two is that they have the ability to share code.
How to manage product development & mobile application services?
It entirely depends on the contract model that you choose from!
Focusteck offers three different kinds of pricing plans to its clients. Have a look at our pricing plans and choose the one which best fits your needs!
For a better understanding, talk to our mobile app experts today!
Why choose Momin Solutions mobile app development services?
Good 9 years of experience in mobile app development under our belt, gives us the confidence to build and run successful apps while crafting processes that ensure high productivity and efficiency.
You can rely on us for React Native, Flutter, or PWA mobile app development for Android / iOS devices.
With us, you can enjoy innovation and all the emerging technologies. We keep track of evolving technologies to deliver our clientage forward-thinking solutions and offer world-class mobile application development services.
We promise you to launch on time and within your budget. We believe in transparency thus with us you need not worry about hidden costs or unexpected charges.
Delivering crash-free products is our specialty. Our comprehensive suite of mobile app testing techniques and expert QA engineers ensure the robustness of the end product.
Have a look at our case studies, to learn about the mobile applications our teams have designed, crafted, and successfully launched
What is the cost of mobile app development?
While there is no fixed cost to develop your app, the average price of developing one isn't as expensive as most of us may think. Some of the factors that help determine the cost of a mobile app cost include the Native Vs Hybrid, developers' rate, the complexity of your project, time involved, etc. Talk to our experts to discuss your plan and the pricing of your app.
Our Popular Use-Cases of
Mobile App 
Development

Across Global Industries
Reduce crashing profits, affectees, errors in land planning, high costs, low conversion rates, and poor selling process with scalable real estate mobile applications developed with the advanced tech stack of Momin Solutions.
With the help of our mobile application development solutions, such as geolocation, integrated payment gateways, push notifications, deep analytics and other modern technologies, you can now offer your customers an interactive and personalized experience.
Foster online processes, automate learning processes, manage learners' needs and track progress with custom app development solutions that aim at high efficiency, reduced paper waste and fewer human errors.
Bad days are those when connecting with your patients becomes a hassle! But at least now you have Momin Solutions developers who increase patient engagement while reducing the risk of errors in medical services through robust and AI-based mobile applications.
Build blockchain-based applications for your travel business to share luggage tracking data through a decentralized database – improve the customer experience and reduce the likelihood of luggage getting misplaced. Make bank payments simple and secure by allowing customers to pay through bitcoin blockchain technology for high traceability. Leverage global blockchain technology to validate customer identities, and provide customers instant access to their rewards points.
Streamline your production lines, supply chain and customer service operations across different devices such as mobiles, laptops, servers, and tablets with InvoZone's mobile app development services.
Overcome financial crises such as stock market crashes, credit crunches, poor loan management, inaccurate predictions, and missed investments with mobile applications crafted under Momin Solution's roof!
We live in an uncertain time as the world is in a state of unrest. But do not worry because Momin Solutions develops mobile apps for those who want quick and easier ways to apply for insurance and submit requests for claim processing.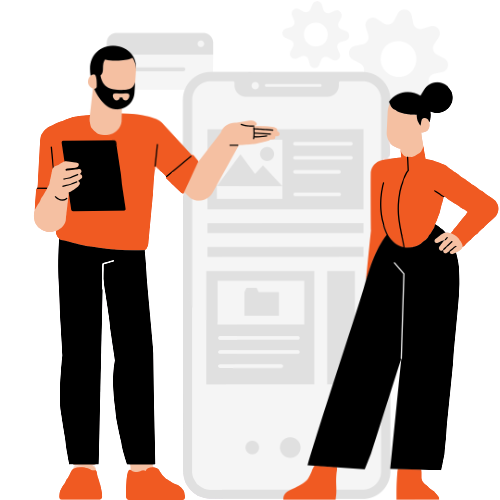 Let Us Know What You're Looking for
Customer satisfaction rate